Ulefone presenta il corazzato Armor 2: hardware migliorato, certificato IP68, adatto per cuori forti (foto e video)
Ulefone ha annunciato in Cina il successore di Armor (qui la nostra recensione), il suo primo smartphone rugged, particolarmente indirizzato per l'utilizzo in condizioni estreme. Armor 2 infatti va a migliorare la dotazione hardware complessiva, senza tradire la sua vera natura, ovvero di essere uno smartphone corazzato, dotato di certificazione IP68 che gli permette di resistere a sollecitazioni davvero critiche.
Caratteristiche Tecniche Ulefone Armor 2
Schermo: 5" Full HD (1.080 x 1.920 pixel) con densità di 401 ppi, protetto da un vetro Gorilla Glass 3
CPU: MediaTek MT6757T Helio P25 octa-core con 4 core Cortex-A53 a 2,6GHz e 4 Cortex-A53 a 1,6GHz
GPU: ARM Mali-T880
RAM: 6 GB
Memoria interna: 64 GB espandibili (con microSD fino a 256 GB)
Fotocamera posteriore: 16 megapixel ƒ/2.0 con doppio flash a LED (dual-tone)
Fotocamera frontale: 8 megapixel ƒ/2.0
Connettività: Dual-SIM LTE (sì banda 20), Wi-Fi 802.11 a, b, g, n (dual band), Bluetooth 4.1, GPS, USB di tipo C, giroscopio, bussola, barometro, NFC
Batteria: 4.700 mAh
Dimensioni: 159 x 78,3 x 14,5 mm
Peso: 270 g
OS: Android 7.0 Nougat
Anche il design del dispositivo ha visto un deciso miglioramento rispetto al predecessore, che presentava un look forse fin troppo anonimo.
Armor 2 invece è molto più ricercato dal punto di vista estetico, con trame e rifiniture più marcate, un profilo ancora più aggressivo ed ergonomico, oltre alle immancabili viti a vista.
Il più grande passo in avanti però è avvenuto nella dotazione hardware, con un processore (Helio P25) ben più performante, una RAM raddoppiata (da 3 a ben 6 GB), così come la memoria interna (da 32 a 64 GB). Confermata la sensoristica, con bussola e barometro che non possono mancare su un dispositivo anche all'utilizzo durante escursioni in luoghi sperduti e inospitali.
La certificazione IP68 consente di immergere Armor 2 in acqua fino a 1,5 m di profondità per un'ora. A sorpresa, anche il comparto fotografico ha visto, almeno sulla carta, un deciso miglioramento, grazie ad un sensore posteriore da 16 megapixel con rapporto focale f/2.0, indicato per scatti anche in condizioni di luce non ottimali.
Uscita e Prezzo
Ulefone Armor 2 sarà disponibile in Cina in due colorazioni, Dark Grey e Golden. Attualmente è possibile iscriversi presso il sito ufficiale dell'azienda per prepararsi ai preordini del dispositivo, in partenza dal 15 agosto.
Al momento quindi non sono ancora noti i dettagli su prezzo e reale disponibilità (nemmeno sul nostro mercato). Vi aggiorneremo su questi dettagli non appena riceveremo ulteriori comunicazioni da parte di Ulefone.
Video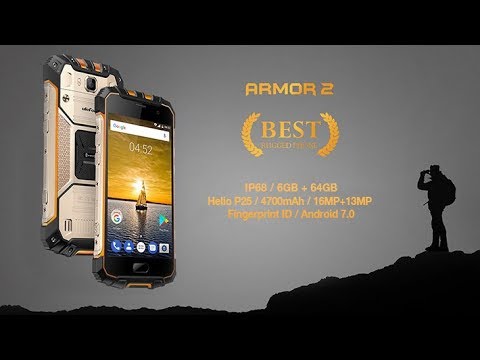 Immagini
Encouraged by the success of the entry-level rugged Ulefone Armor, Ulefone has been working on an enhanced rugged model named Armor 2. Seems like things are progressing rather quickly, the Armor 2 will go on presale starting August 15th. Before that as usual Ulefone holds a pre-heat event where you can get $40 coupons, $40 gift bags, and enter a Giveaway . Now let's learn some more about the Armor 2.
As a rugged device, the Armor 2 features IP68 dust and water proofing certification which makes it possible for the phone to survive from 1.5-meter depth in the water for an hour or 1-meter depth in concrete for 24 hours. The Armors also adopts a highly compact and sealed structure with inevitable structural gaps filled with waterproof taps and sealing rings. To earpiece, microphone, and speaker that must be exposed to air, the high-density macro-molecule coating is added to make them waterproof.
The housing of the Armor 2 is made of flexible TPU, glass fiber reinforced polycarbonate and metal, while the display is protected by Corning® Gorilla® Glass 3. Beside, the raised design on the front and back, and the protective nubs that cover the four corners of the phone provides all-round protection from drops or falls. It's also resistant against extreme temperatures with working range from -40℃ and 80℃.
As far as hardware goes, the Armor 2 features some quite solid specs. Equipped with the latest powerful and efficient Helio P25 octa-core processor clocked at 2.6GHz, with a whopping 6GB of RAM, and 64GB of internal storage, the Armor 2 could offer you smooth overall performance, let alone demanding multitasking and games. The phone also sports a 5.0-inch HD display with a pixel density of 441PPI, resulting in more vivid images with vibrant colors. Well, it's rare for rugged phones boast front-facing fingerprint readers, below the display on the Armor 2 there's a fingerprint scanner with unlocking speed up to 0.1s.
Meanwhile, for photography enthusiast, the Armor 2 won't let them down either. Thanks to the 16MP rear camera and 13MP selfie snapper, you could takes quite nice photos with the Armor2. And you could even snap pictures under the water thanks to the waterproof cameras and shutter button. The Armor 2 also packs a 4700mAh battery which can last two-day heavy usage. With PE+2.0 fast charge supported, the phone could be refilled in 120 minutes.
Aside from that, the Armor 2 have some highlight features, for instance, rather extensive 27 frequency bands under 6 types, 6 physical functional buttons on the edges consisted of power on/off button, PTT button, shutter button, Volume +/- button, SOS button, barometer sensor for measuring air pressure and altitude in real time, AR/VR compatible 6-axis gyroscope, smart NFC technology, etc.
Running pure Android 7.0 Nougat as the OS, the Armro2 would be available in 2 color variants, dark gray and golden. If the Ulefone Armor 2 looks interesting to you then you can check the pre-heat offers in here: http://ulefone.com/page-ulefonearmor2-launch.html . To learn more about the phone, you could check the Ulefone official website: http://ulefone.com/products/armor2/features.html .