Fleksy entra nel Guinness World Record e va in sconto del 50% fino al 29 maggio (foto e video)
Fleksy, una delle più celebri tastiere di terze parti presenti sul Play Store, festeggia oggi un altro importante traguardo: il suo ingresso nel Guinness World Record per la scrittura più veloce su smartphone. Marcel Fernandes, un utente della tastiera Fleksy, ha infranto il record in New York City con 18,19 secondi.
LEGGI ANCHE: Fleksy si aggiorna alla 2.1, con nuove lingue e layout multipli (foto)
Per festeggiare il primato, è stato rilasciato un aggiornamento dell'app, che ora include il World Record Challenge, permettendo a tutti gli utenti di Fleksy di superare il record appena realizzato, e vincere vari premi.
Inoltre, Fleksy per Android sarà in offerta sconto del 50% fino al 29 maggio 2014 e tutti i precedenti periodi di prova gratuita saranno estesi fino a tale data. Non ci resta quindi che lasciarvi il badge per il download della versione trial, seguito dal video, dalle immagini e dal comunicato stampa che celebrano l'evento.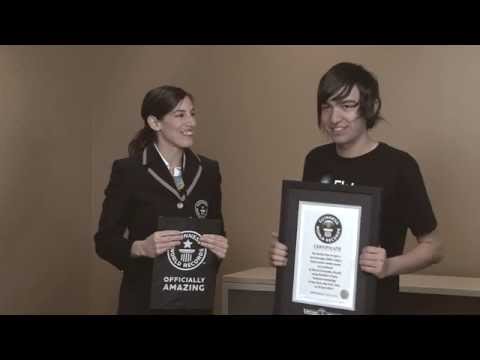 Fleksy Keyboard Breaks the Guinness World Record for Fastest Texting

Celebrates World Record with Major Android and iOS Updates Featuring Fleksy's Most Accurate Performance yet.

Now Available in Google Play with 2 More Weeks Added to the 30-day Free Trial.

Fleksy, the award-winning touchscreen keyboard company, today announced that it just broke the Guinness World Record for fastest texting on a touch-screen mobile phone. Marcel Fernandes, a longtime Fleksy user, broke the record in New York City with a time of 18.19 seconds at an official Guinness event, making Fleksy the fastest smartphone keyboard in the world.

Fleksy takes the coveted title while introducing its much anticipated next-generation accuracy engine on both mobile platforms. The new Fleksy engine features improved correction accuracy, including space error corrections and an improved language engine for its award winning keyboard. The previous record holders were Microsoft and Swype.

"We've been passionate about building the most comfortable, beautiful, and fastest smartphone keyboard ever since we started" says Ioannis Verdelis, Founder and COO of Fleksy. "The Guinness World Record is a great testament to our progress, and we are pleased that our latest improvements make Fleksy the world's fastest keyboard for smartphones."

To support Fleksy's Guinness World Record-breaking speed, the team has released updates to Fleksy for both Android and iOS. Both apps feature the most accurate Fleksy Engine yet. The iOS update features 6 new languages, and the Android app includes a new World Record Challenge, allowing Fleksy users to beat Fleksy's own record and win badges and prizes.

Fleksy for Android will be 50% off in the Google Play Store until May 29 and all previous free trials will be extended until May 29. "We've made a lot of improvements to our product in the last months, and we want to give everyone the chance to try the world class technology we've been building" said Kosta Eleftheriou, Founder and CEO of Fleksy.

About Fleksy:

Fleksy is a revolutionary keyboard powered by patent-pending technology that makes typing on any device fast, accurate and so easy you can type without looking. Its unique language algorithm founded on Geometric Intelligence moves beyond text prediction and autocorrect to give a much more accurate and easier typing experience than other keyboards.

Winner of the 2013 CES Innovations Design and Engineering Award, Fleksy is the first keyboard app to be demonstrated on a 3D gesture system (Leap Motion); the first to be demonstrated on a smartwatch (Omate) and the first to arrive on iOS. Fleksy's award-winning design and technology is backed by venture capital firms including Highland Capital Partners and Kleiner Perkins Caufield & Byers. To learn more about Fleksy, visit http://www.fleksy.com.